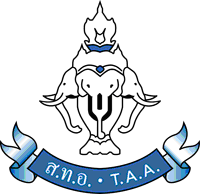 สมาคมไทย
ณ
อเมริกา
Thai Alliance in America
11006 Veirs Mill Rd Ste L15-289, Wheaton, MD 20902
Email: This e-mail address is being protected from spambots. You need JavaScript enabled to view it
Website: www.taausa.org
Last year, with your help, the Thai Alliance in America (TAA) was able to create two financial scholarships for high school seniors of Thai heritage. Before even seeing what kind of a response we were going to get from students, we knew that the demand for such a scholarship was there. Through a partnership with the Asian & Pacific Islander American Scholarship Fund (APIASF), we were able to see the true demand for such a scholarship. During the application cycle, 196 Thai students started an application, and out of those students that completed the application, Nicole Gilmore of Columbus, Kansas and Andrew May of Midwest City, Oklahoma were selected. Nicole and Andrew spread cultural awareness in their counties, assist in setting up festivals at their local temples, and help elderly Thai members of their community with daily chores such as taking out their trash or mowing their lawns – small things that can be extremely difficult without family members close by to assist. 
This scholarship continues to be the first scholarship of its kind that seeks to reward students of Thai heritage nationally, whether they are of full Thai heritage or of mixed background. This is an exciting opportunity to provide a scholarship for a Thai youth from your community who is making a difference – somebody like Nicole or Andrew – and I respectfully ask for your commitment to this cause.
This coming year one (1) award of $2500.00 will go to a well-deserving student who has shown academic achievement and/or improvement, financial need, and an interest in community service and involvement with the Thai community. The scholarship will go directly towards the student's tuition through their educational institution of choice. As mentioned previously, the award is open to a Thai student anywhere in the U.S. who demonstrates the aforementioned qualities. Applications will be judged completely outside of TAA, through the fund manager, APIASF. The application is already available online at www.apiasf.org, on the Thai Alliance in America's website (www.taausa.org), and on many other community websites. 
We cannot continue to support Thai students without your help! Please consider making a donation to the scholarship fund and allow us to reward our young Thai community leaders of tomorrow for many generations to come. I would like to remind you that TAA is a registered 501(c)(3) organization, and thus, your donation is fully tax-deductible. Please make check payable to "TAA" and note that it is for the "Scholarship Fund". 
I thank you in advance for your generosity and investment in our youth— our community's future! Should you have any additional questions, please feel free to contact me at 240-832-5673 or by e-mail at This e-mail address is being protected from spambots. You need JavaScript enabled to view it .
Sincerely,
Boosaba J. Pananon
TAA Scholarship Committee Chair
Thai Alliance in America
Donations Accepted
Donate to TAA
เชิญบริจาคสนับสนุนสมาคม  

TAA Account