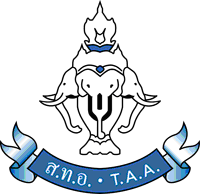 สมาคมไทย ณ อเมริกา
Thai Alliance in America
11006 Veirs Mill Rd Ste L15
-289, Wheaton, MD 20902
Email: This e-mail address is being protected from spambots. You need JavaScript enabled to view it
Website: www.taausa.org
Thai Alliance in America is pleased to report our activities in 2011 and our plan for 2012.  This year our management team decided not to host a fundraising event.  The cost of hosting an event is very high and most of the proceeds from selling event tickets are used for restaurant food and other event expenses.  The net proceed left after hosting an event is very small.  TAA would like to be economical and make the money you donate goes a long way to serve your intended purposes, therefore, TAA would like to ask for your donation by mail this time.  Please support one or more TAA programs of your choice below.  During this year-end giving season we hope you will consider donating by sending a check to TAA.
2011 TAA activities
November 6, 2010 TAA provided volunteers to aid human trafficking victims with the Maryland State Bar Association at the American University College of Law.

January 1, 2011 TAA participated in a major fundraising event to raise funds to help flood victims in the South and in other parts of Thailand. 

March 28, 2011 TAA joined a major U. S. National coalition, the Coalition for the National Museum of the American People, among some 147 national ethnic organizations to advance the status of Thai people in America.  The goal of the Coalition is to have the Obama Administration create a bipartisan Presidential Commission to study the establishment of the Museum. The Coalition is also calling on Congress to adopt a bipartisan resolution that urges the Administration to take that action.  Read more at

www.nmap2015.com

.
May 12, 2011 TAA joined the Asian American Chamber of Commerce to host the 2nd Annual Asian American Business Summit & Expo in Virginia.

June 18, 2011 TAA hosted the TAA Regular Conference of Members.

September 21, 2011 TAA announced winners of the TAA Scholarship Nicole Gilmore and Andrew May.

September 24, 2011 TAA sent two representatives, Ide Viriya and BJ Boosaba Pananon to meet with other Thai organizations in Los Angeles to explore ways in which the Thai American community could come together to share resources, discuss challenges, and plan a 2012 summit for Thai people in the United States.

November 10, 2011 TAA announced a new $2,500 TAA Scholarship for Senior High Students of Thai heritage planning to go to college in 2012.
TAA activities for the coming year:
Raise funds to help victims of the worst flooding in Thailand.  TAA will accept your donation and other sources of fund to help the victims in Thailand by working with a U.S. base 501(c) (3) Thai non-profit organization called Smiles on Wings run by Dr. Usa Bunnag, D.D.S.,P.A. to provide emergency survival kits (cost about $18 each) to the flood victims who are badly in need of help in Bangkok and upcountry.  To ensure that the money will go to assisting flood victims in Thailand, TAA will work with Smiles on Wing to buy and make survival kits to give to flood victims directly.  http://www.smilesonwings.org/GetInvolved/DISASTROUSFLOODSHITTHAILAND.aspx
TAA will continue to revive this oldest and most well-known organization by inviting more Thai and non-Thai people to join and become TAA members.  TAA will invite its members to take a more active part by joining the management team to strengthen the organization so we will be able to help our members and the community more.
TAA will try to raise funds to offer scholarship as an investment in Thai children for the Thai community in America.   We are planting a proud feeling of being Thai helping the Thai community in our younger generation.
TAA will continue to work with other Thai organizations throughout the U.S. as we did when we campaigned for the 2010 Census for Thai people to complete the census forms.  We are now working with other Thai organizations to unite Thais and Thai Americans who we hope will support and advocate for the Thai community in America.  We are jointly planning and organizing a national summit for Thai leaders and interested parties in 2012.  This will be an annual summit to be hosted at different cities and the topics may cover Thai culture, Thai youths, involvement in the government policy, and advocacy for Thai people in the U.S.
TAA hopes you will continue to support our activities to help Thai people and to develop a stronger Thai community in the U.S.  Please donate what you can to support one or all of our activities by printing and completing the donation section and mail a check to TAA at 11006 Veirs Mill Rd Ste L15-289, Wheaton, MD 20902.

For your convenience please donate online by clicking the orange "ChipIn!" button under "Donate to TAA here ↓".  You can donate by credit card, debit card or PayPal.

TAA is a registered 501(c)(3) non-profit organization, and thus, your donation is fully tax-deductible.

Thank you.

Thanit Thangpijaigul

President


 

Please print and complete the form below and mail your donation to TAA at 11006 Veirs Mill Rd Ste L15-289, Wheaton, MD 20902

 

 

………………………………………………………………………………………………………

Donation Form ใบบริจาค

Name:        ________________________          สมาคมไทย ณ อเมริกา (ส.ท.อ.)

Address:    ________________________           เป็นองกรค์อิสระไม่แสวงผลกำไร

                ________________________            เงินบริจาค ของท่าน                      

                ________________________            สามารถนำไปหักภาษีได้

Email:        ________________________           กรุณาเขียนเช็คสั่งจ่าย "TAA"

Phone:       ________________________                                         

I/We would like to donate to TAA for:                  Please make check

ข้าพเจ้าขอบริจาคเงินให้ ส.ท.อ. เพื่อ                         Payable to "TAA"


(     )  สมาคมไทย ณ อเมริกา (TAA General Fund)                                   US$   ________

(     )  สมทบทุนช่วยผู้ประสบอุกทกภัยที่เมื่องไทย  (Thai flood victims)                  ________

(     )  ทุนการศึกษาเยาวชนไทย  (TAA Scholarship)                                            ________

(     )  ต่ออายุหรือสมัครเป็นสมาชิก $50 ตลอดชีพ $10 สองปี 

         (Join or renew TAA membership $50 lifetime, $10 2-year)                  ________

            รวมยอดบริจาค Total check or money order:                       US$   

                                                                                                                   ======

 

 
Donations Accepted
Donate to TAA
เชิญบริจาคสนับสนุนสมาคม  

TAA Account